Customized Japanese Quizes-- START!
Posted on Jan 30th 2010, 01:16 // 6,733 views // 105 comments
We (I) here at Ippatsu am (are) proud to announce the release of our new custom Japanese testing system!
Starting today, users can practice with Japanese quizes collected from all of Ippatsu, which includes questions from past Japanese Proficiency Tests (JLPT) as well as various textbooks and study materials.
Instant Feedback
The new testing system not only shows and corrects your answers in real time, but also displays your success rate for the question, as well as how you compare to other users on the site. We help you find your problem points so that you can learn and improve quickly!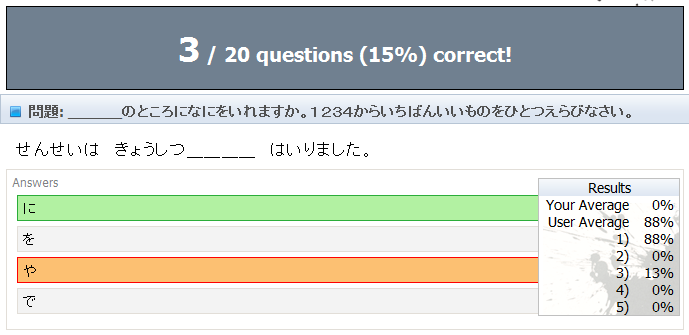 Customize your Test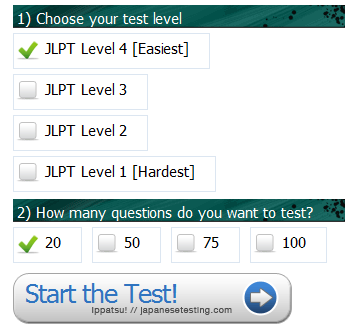 By Level

Each custom test is grouped by level, so you can choose questions based on your own Japanese level, and compare your improvement against other Japanese students to see how you rank in our global community of Japanese students.
By Questions

You can also choose how many test question you'll study in each test. 10-20 questions for a quick refresher, or up to 100 questions for those long study hauls. And when you're finished? Just choose a new set of questions and start practicing!
Upgraded Users get more!
Basic (free) users are limited to 20 questions per test, and 2 tests per level per day. That means you get 8 tests a day, with 160 questions all for free!
Want more? Upgraded users (Hobbyist and Pro) get up to 100 questions per test, and Unlimited Tests per day.
Even Guests Users Get to play!
Even guest users can use the new System!
Every day we prepare one 10 question Test for our guest users for each level of the JLPT. That means, even without logging in, you can study Japanese every day. Want a little more? Sign up, and you get 20 questions per tests, and a total of 8 tests per day -- all for free!
How do I start?
The new testing System has been set as the default page in the test section (in the navigation bar up at the top of the page). You can also access it from the dropdown menu on that same navigation bar.
Select your level and your number of questions, and off you go!
What's next?
We have a lot coming in the new year! Next up on the list:
Better test reporting
More Tests
More Flashcards
iPhone support for flashcards
It's going to be a great year for Japanese!
---
105 Comments