Valentine's Day in Japan
Posted on Feb 14th 2010, 01:24 // 6,768 views // 54 comments
Valentine's Day is just around the corner!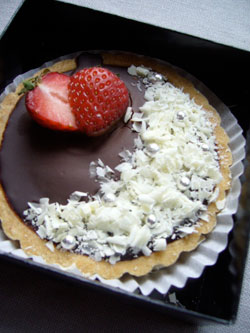 Here in Japan, Valentine's Day is as big if not bigger event than in the west! Valentine's Day in Japan started in the 70's as a day for women to declare their love to men by giving chocolate What do men do on Valentine's Day then? In Japan, men just receive chocolate on Valentine's Day. However, there is another holiday in Japan that you don't have in the West called "White Day." White Day is when men who received chocolate on the Valentine's Day from ladies give something in return to them on the 14th March, one month after Valentine's Day.
What is the difference between Valentine's Day of now and then? Women giving chocolate to men hasn't changed so much, but many kinds of chocolates have shown up nowadays. Also cookies, cakes, and many other presents are sometimes given instead of chocolate.
Kinds of chocolates
| | | |
| --- | --- | --- |
| Real-love chocolate | 本命チョコ | To the people whom you love |
| Friend chocolate | 友チョコ | To your friends |
| Family chocolate | ファミリーチョコ | To your family |
| Obligatory chocolate | 義理チョコ | To the people whom you sometimes get help from or you feel you should give back to. |
| Healing chocolate | 癒しチョコ | To the people who worked too hard or got hurt and need to be healed. |
| Encouraging chocolate | 励ましチョコ | To the people who are down or depressed. |
| Heart of mother chocolate | 母心チョコ | Given from mother to sons (Especially to sons who couldn't get any chocolate from girls. A sort of family chocolate) |
| Offering chocolate at the home alter | 仏前チョコ | To your ancestors |
| Throw-a-sprat-to-catch-a-whale chocolate. | 海老鯛チョコ | This is to give a cheap chocolate and get a better gift in return. We hear that there are some women who buy a big, cheap bag of chocolate at the supermarket, then gives them out like throwing popcorn to many men in the hope that she'll get better presents from them. So sleazy! |
| Make-up chocolate | 仲直り・リセット型チョコ | To the people whom you want to make up the relationship again. |
| Double/Triple (or more?) chocolate | 二股三股チョコ | If you have many boyfriends... |
| Surprise chocolate | ひょうたんから駒型チョコ | It's a chocolate that is from someone whom you never expected. |
| Show-off chocolate | 男性の見栄っ張りチョコ | Men who couldn't get any chocolate buy it for themselves. They might need to show off to their coworkers or friends or his family to prevent being thought of as miserable. Therefore, he can maintain his high pride. |
| For-yourself chocolate | 自分用ご褒美チョコ | To buy as many chocolates as you want as a treat for yourself! |
A Variety of Chocolate
Hand-made (not making chocolate from scratch, just alter its shape) 
Chocolate from high class chocolate shops.
Funny chocolates
Can chocolate really carry such a profound meaning?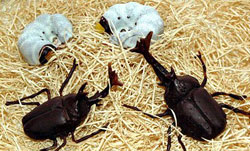 It's only chocolate, but it can carry many meanings, as you've just learned here.
How do men receive chocolate? How do they recognize its meanings?
What if he misunderstands the "Just-friends chocolate" he got from his female friend as a "Real-love chocolate" and thinks things like "I didn't know that she likes me that much..." *blush*.
Or what if he thinks that the "Obligation chocolate" from his younger pretty co-worker is a "Real love chocolate?" Then he'll thinks "Wow! I bet she is interested in me! Should I ask her out?" We hear that kind of stories sometimes. Ouch.
Once in a while we also hear stories like, a "Real-love chocolate" which a girl gave to a popular boy was taken as "Just-friend chocolate" that was "from one in many girls..." Also painful. We recommend that you make your feelings clear when you give chocolate to men in Japan. If you are a man, please be humble and be careful when you receive them!
Are chocolates a barometer of popularity?!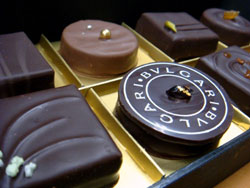 If a husband is a manager at a company, his wife can know how popular he is among his workers by the quality and the number of chocolates he receives. After he brings them back to his house, his family often eats them (if they are too many). And of course his wife will check every single chocolate to see if it implies "love" from any of his young female worker who tries to tell him that she likes him. 
Another occasion for chocolate as a barometer of popularity is at school. Boys brag to each other about how much chocolate they get. A very popular boy who gets a lot of chocolate which spills out like an avalanche from his shoes box with love letters, compared to a sad boy who couldn't get  chocolate from any girls...what a drama.
Even among family members, giving and taking chocolates can be a sort of communication. From sister to brother, mother to father, daughter and mother to father and son, grand daughters to grandfather, etc...even though givers expect returning gifts and takers know that, it makes them happy.
What if he doesn't like chocolates?!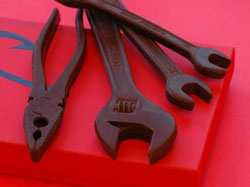 Not all of Japanese men like sweets of course. Then what should women get for him for Valentine's Day?
Alcohols like sakes, wines, etc...   (He would love it if he can enjoy it with you.)
Underwear, socks, a handkerchief, etc... (They are always practical & acceptable.)
Accessories like a tiepin, a necklace, a ring, etc... (If he is your boyfriend or husband, you can get a pair for the both of you.)
Home made cooking  (It might be able to make him to think that you're the one whom he wants to get marry...? At least you can show off how good of a cook you are.)
Hand made scarf, gloves, etc... (They might pressure him too much sometimes if he isn't your boyfriend or husband.)
Heart shape things like bread, tea bags, soaps, food, a mouse pad...
Presents for White Day
You! Men! If you got chocolates on Valentine's Day in Japan, it's not all fun and games! White Day is coming soon, so make a list and think about presents to give in return. If there are no return gifts, women will think you are stingy or very poor, or she might misunderstand that "Oh my gosh! He doesn't like me anymore?!"
(Editor's note: This is true. My wife got quite upset last time I forgot White Day and went out with friends instead. If you get chocolate on Valentine's Day, be prepared to give back on White Day!)
What should men get for women on White day then?!
Let's see...
Flowers  (for your loved one. Always good.)
Sweets like cookies, marshmallows, candies, etc... (Most of men give them as return gifts)

Handkerchief      (very normal and safe)
Lingerie    (for your loved one)
Books     (if you know what she likes that would be nice and you can talk about it later together?!
Date   (It might be a best chance to ask her out. Well, maybe? Why don't you try to give a shot? Take her to a romantic dinner or movie or...?)
Going shopping together      (If you weren't brave enough to ask her out or the chocolate she gave you meant unclear, you can ask her to go shopping together and ask what she likes. It could be a date if you can do well?! Because if she is with you, you don't have to worry about getting her down by giving a present she doesn't like.)
Top-notch brand goods   (They are always popular among Japanese girls forever. If you are rich enough, try and see how they work really well.)
Jewels  (Needless to say, they are a lady's friend forever.)
Valentine's Day in Other countries
In America, men and women usually exchange presents but according to the news, it's come into vogue to men prepare surprise their loved ones. How exciting!
In China, Valentine's Day has been popular among young people in big cities for about 5 years. It is called 情人節. Usually, men give roses to women but the number of roses carries different meanings. It is simple and clear, isn't it?
In India, Valentine's Day hasn't been generally accepted yet Parents expect their sons and daughters to study instead of having dates Since most Indians are Hindu, their image towards Valentines' Day isn't very good and apparently there are sometimes groups that attack people who celebrate the day. However, it's still been spreading among young people little by little. Men send flowers to women.
Korea & Taiwan, they are only two countries which has White Day besides Japan! It's not as popular as in Japan but it's steadily gaining popularity.

There are some countries that have festivals or parties, etc... How about your country?
Have a happy Valentine's Day!
---
54 Comments