Hina Matsuri - Doll's Festival in Japan
Posted on Mar 1st 2010, 11:10 // 12,815 views // 51 comments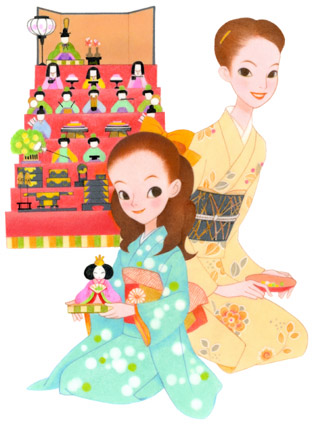 Hina Matsuri, held on the 3rd of March, is a festival for little girls. Its origins are in the seasonal event called "Jyoshi (上巳 じょうし/じょうみ)" which means "the Day of the Serpent," which occurs in early March. Eventually, in order to keep the date of the festival from changing, the date was later set to March 3rd.
Jyoshi's origin goes back to around 300BC in ancient China.  

It was thought that there existed a malicious spirit which brought about misfortune between the changing of the seasons. Therefore people used to hold an event called "Gokusui" (曲水) in which they would purify themselves and exorcise evil spirits by setting cups to flow in a nearby river or stream. In short, this festival was held to purify and hope for the happiness of all people:, young and old, men and women. It is believed that the event was later brought to Japan by Japanese diplomats called "Kentoushi" (遣唐使).

In ancient times, Japan also used to have this idea of purification through a purification vessel, called "Katashiro." Thus, the Jyomi seasonal event was readily accepted by the Japanese and changed into a Japanese event called the "Jyoshi" festival. One of the types of vessels used in this festival were floating dolls called "Nagashi-bina," which were made in the form of their owner from plant fibers. People would rub their doll to imbue any malicious spirits that were haunting them into it and let it be carried downstream. In some parts of Japan, people still practice this tradition, and the event has been developed to an elegant water festival.
The Origin of the dolls ・ the birth of Hina dolls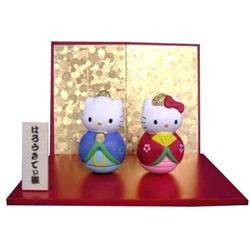 During the Heian era, playing with paper dolls was popular among noble children in the palace. It was called "Hina asobi (雛遊び(ひなあそび/ひいなあそび))" (asobi means playing --ed) . Hina is an old Japanese word that means means making big things smaller, or little tiny cute things.
These dolls became related to the Jyohmi festival, and a pair of dolls (one boy, one girl) were created for the purification ceremony. As technology for making dolls developed, the dolls changed from floating dolls, to dolls used for decoration.
Festival of the Peach~ Hina Matsuri for girls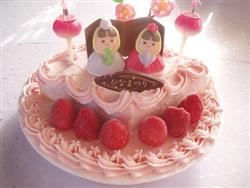 As time passed, the Edo government created five seasonal festivals, one of which was the "Peach festival" on the 3rd of March. When May 5th was set as boys' festival, Peach festival changed was changed to girls' festival.

Eventually, hina dolls became a symbol of wealth and power for houses that had a daughter. Showing the dolls to people was called "Hina awase," and it started to become popular to visit and feast with relatives on the day called "Hina tsukai.". Gradually, commoners started desiring a festival with beautiful dolls like the aristocrats had. Dolls became larger and larger for the more affluent houses, and eventually the government had to regulate the cost and size of the dolls to 24 cm.

Eventually, as the common people became wealthier, Hina Matsuri became a big festival for praying for the happiness of their children. So, why did they start calling it the Peach Festival?
Why is it called the Peach Festival?
Relationship with Momotaro
In the old lunar calendar, the 3rd of March is the season of the peach, but that isn't the only the reason that Hina Matsuri is also called the Peach festival. Long ago, it was believed that peaches could exorcize evil spirits, so it is often used in various rituals. Therefore, Hina Matsuri's name changed from Jyoshi to "peach festival."

It is also believed that peaches are plants which are conductive to a long life and eternal youth. Even the word for "100 years old" has the word peach in it: "Momotose" (百歳). There also used to be a tradition to drink sake made from peaches.
Did you know?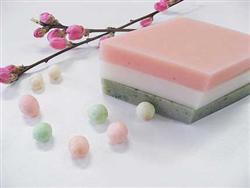 From ancient times, ogres have been seen as a symbol of evil spirits (that's why we purify evils on Setsubun by casting out Ogres). This is why it is believed that peaches have the power to purify evil and kill ogres. Don't know why? It all comes back to the story of Momotaro (Peach Boy) who was born from a peach, and went out to kill a bunch of ogres who were terrorizing the land.
Modern Hina Matsuri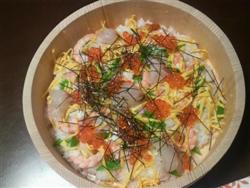 We've learned the history of Hina Matsuri, but how do we celebrate it in the modern day?
There are many ways of celebrating it, depending on the household, and the local traditions. Some houses, especially those without little girls, don't do anything special. Some houses will celebrate Hina Matsuri every year. Some houses display the dolls for months, while some of them don't display them at all, or only a tiny one for short period.
Houses which celebrate Hina Matsuri and display the dolls often take pictures of their daughter in front of the dolls.
In school, children often get Hina-cracker, Chirashi-sushi, a soup with clams and cakes with little dolls on top of it for their school lunch. Yummy!
What do Hina dolls look like?
We decorate Hina dolls after "立春" (the first day of spring by the lunar calendar) at the earliest, and at the latest, the day before Hina Matsuri.
However we need to put the dolls away right after Hina Matsuri, because there is a superstition that says daughters can't get married if the dolls are kept out too long. However, no one believes that anymore… (or *do* they?! Dun dun DUN! –ed)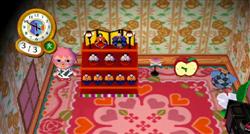 About the Author
Yumiko Perhac was born and raised in Japan and is currently the main translator and native-Japanese checker for Ippatsu. She has found a new love in writing these articles for Ippatsu, and hopes that you enjoy reading them.
---
51 Comments