Omiyamairi: Baby's first trip to the shrine
Posted on May 16th 2010, 05:36 // 8,745 views // 56 comments
What is Omiyamairi?
Omiyamairi (Shrine Visiting) is the practice of visiting a shrine to announce a baby's birth, and to pray to the local God of fertility called "Ubusunagami " for the baby's healthy growth.
We pray to the god to protect the baby and to have him accept the baby as a local resident by having a priest to pray and purify the baby.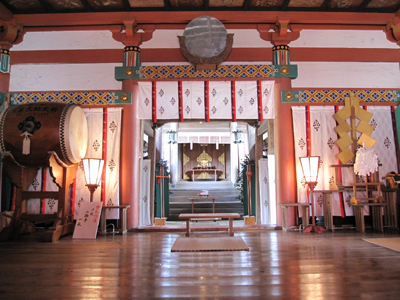 When and who does Omiyamairi?
In many places in Japan, people usually visit a shrine for Omiyamairi 31 days after a baby boy is born and 32 days after a baby girl is born.
However, there's no need to go on exactly that day: many families go on a sunny day or a day that the father can take off work, or a day in which the mother and baby are feeling well. Therefore, Omiyamairi is usually done around 30 days after the baby is born, or after the one-month health check at the doctor's.
Traditionally, it is usually the grandmother on the father's side that holds the baby but it's also ok for the grandmother on the mother's side to hold the baby. Also, if grandparents live far away, it is ok for only the mother and father to go to the shrine, and in that case, the mother usually holds the baby.
What do you do, exactly?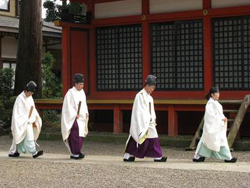 Parents wash their hands and mouth at the fountain inside of the shrine, and then go towards the front of the precincts. They throw some money into the offertory box, ring the bell above the box to get god's attention, bow to the god twice, clap their hands twice, and bow once again before making a wish or praying to the god.
During Omiyamairi, it is ok to only give some money to the shrine and to ring the bell, but you can also ask the priests to recite a prayer and purify the baby. After the Omiyamairi, many parents go to a photo studio to take memorial pictures, and have a celebratory meal with their family and relatives.

What should we wear?
Babies usually wear fabulous colorful kimono for Omiyamairi. There are kimonos with patterns for good-luck, like colorful balls and little embroidered hand drums for girls, or armors and eagles for boys.
Traditionally the mother and grandmother used to wear formal, black kimono, but recently more and more people wear plain kimonos with their family crest, or more elegant kimonos with delicate patterns, or even  semi-formal kimonos, or suits and dresses.
The kanji on the baby's forehead
It is traditional to write a kanji on baby's forehead at Omiyamairi in order to protect against evil spirits. Usually 大 (big) is written on boys' forehead and 小 (small) on girls. A long time ago, people used to write X with charcoal from their oven. Eventually though, it became traditional to write 大 and to write  it in red. And because this warding symbol changed from X to  大 for boys, for girls, the opposite character, 小, was chosen.
Recent movements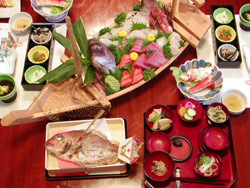 There are some people who don't care which day they visit a shrine for Omiyamairi. Some people don't even do Omiyamairi at all.
People who wear regular clothes instead of kimono are increasing, and many people rent kimonos at a shop because they don't own any of their own.
As for which shrine to visit, some people go to a famous shrine rather than one nearby.  Recently, people don't care about tradition as much as they used to. There are also some families who go for Omiyamairi without having a celebratory meal or giving celebratory gifts. That's too bad…
Elena's (愛玲菜) Omiyamairi
I took my newborn daughter to a nearby shrine for Omiyamairi with my family yesterday. It was a weekday, so it wasn't very crowded. It was a sunny day and there was a cool breeze. We had a priest to pray for our new daughter, but I couldn't understand exactly what the priest said, because the prayers are done in very stylized Japanese – and even though they are in Japanese, even for me it sounded like some sort of weird spell.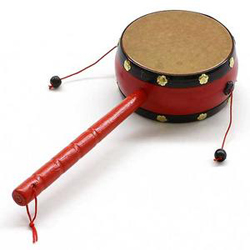 However, I could understand parts of it, and know that he prayed for my daughter's healthy growth and happiness. We also got presents from the shrine, like chopsticks, little plates and bowls on a tiny tray, a lucky charm, a celebration sweet made from sugar (which didn't taste very good), a "Den-den" drum and a talisman.
It felt so special to wear a kimono for the Omiyamairi ceremony. My daughter looked so cute in the tiny kimono that she wore. My mother came with us and took a lot of pictures for us. We thought it was really a wonderful way to celebrate the birth of a baby with the family.
---
56 Comments